VTDance Celebrates 20 Years!!

Baltimore Theatre Project presents VTDance/Vincent E Thomas in 20th Anniversary Celebration
April 22nd at 7pm & April 23rd at 2pm
Artistic Director, Vincent E. Thomas
Lighting Design, Heather Mork
"I am struck by the number of artists and collaborators that has journeyed with VTDance from the very start. The many threads of the quilt holds each patch together…and I am deeply grateful.
In this event, in this space, the art continues to deepen for me, revealing the many seeds that has allowed art to strive, thrive, and yes, be alive. These walls are speaking, these walls are whispering, these walls are moving…these walls hold stories of VTDance from past, present, and what's to come. So throughout the experience, lean in a little closer to see, smell, hear, taste, and feel the rich journey – 20 years of VTDance."

Vincent E. Thomas
Thomas has been exhilarating us with his audacious, eloquent, and dramatic works ever since he first started his company…
– Carolyn Kelemen, Maryland Theater Guide (2023)
20th Anniversary Celebration Looking Back
Suite 20
Choreography: Vincent E. Thomas
Music: Jason A. Baker, James Brown
Performance: Vincent E. Thomas, Elias Brzezinski, Mikhail Gordon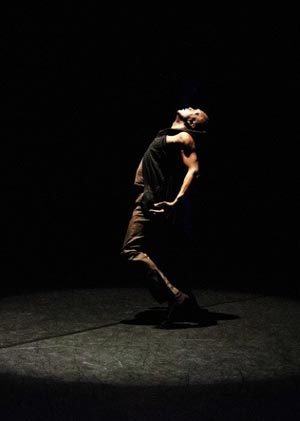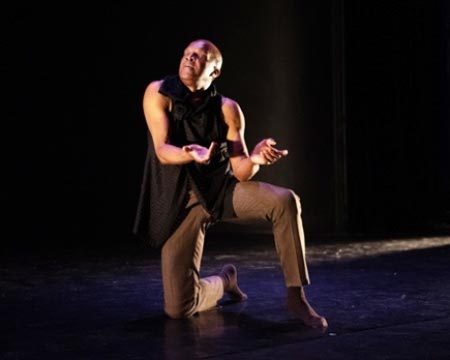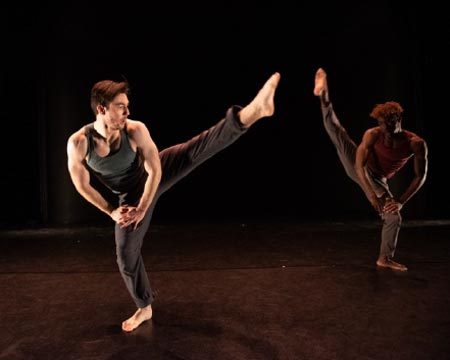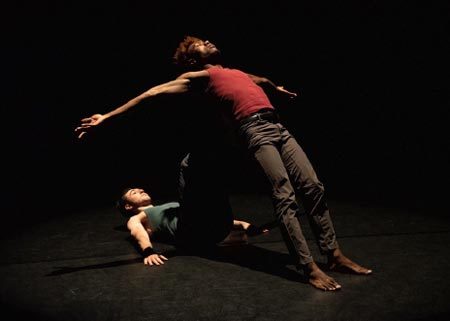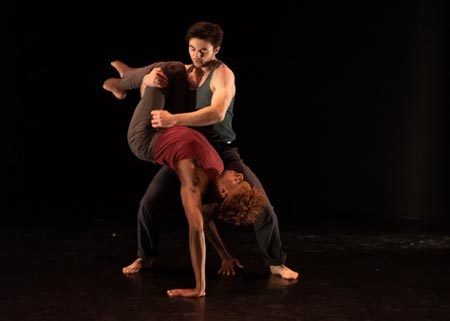 Praise! (Excerpt) (2023)
Collaboration & Performance: Gabriel Thom Pasculli and Vincent E. Thomas
Workshop Director: Desiré Graham
Soundscore: Cooper Forsman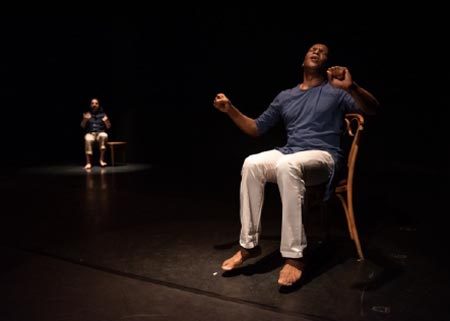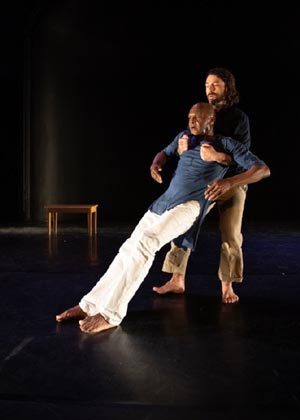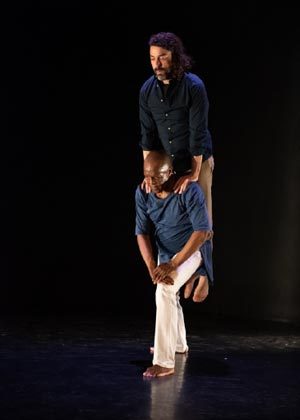 "…drifting into consciousness" (2021 virtual premiere)

Collaborative Choreography and Design: Vincent E. Thomas and Thomas Tyger Moore
Performance: Vincent E. Thomas and Thomas Tyger Moore
Music Creation: Young Denzel
Soundscape: Rain, Water
Text: Vincent E. Thomas and Thomas Tyger Moore
Videography/Editing: Orange Grove Dance- Colette Krogol & Matt Reeves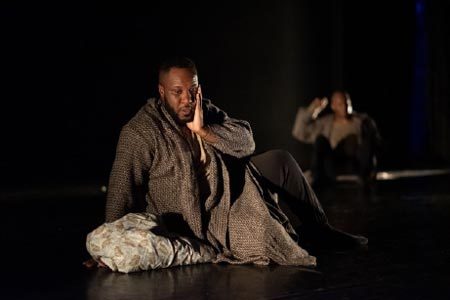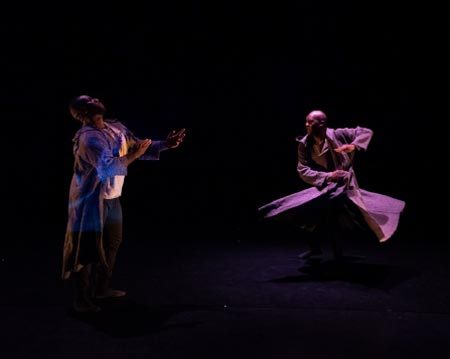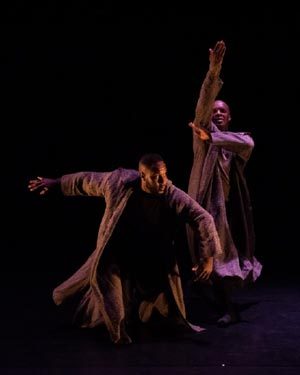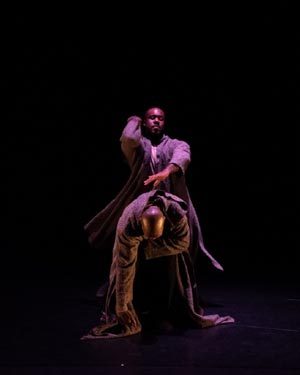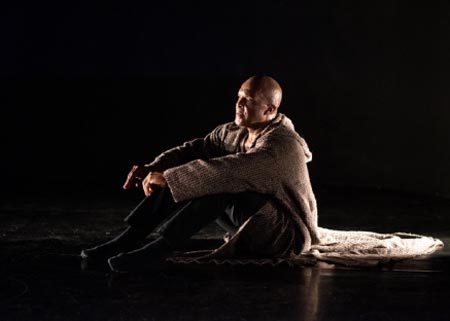 "Contemplations on Legacy" (2023)
Choreography: Vincent E. Thomas & in collaboration with dancers
Performance: Elias Brzezinski, Armani Colon, Mikhail Gordon, Sadé Morgan, Kendall Willis, Baylee Wong
Music: Toumani
Poet: Cathy L. Draine
Costumes: Hannah Brill
Rehearsal Assistant: Elias Brzezinski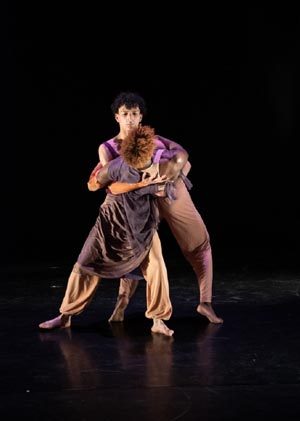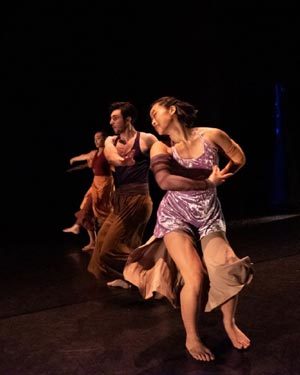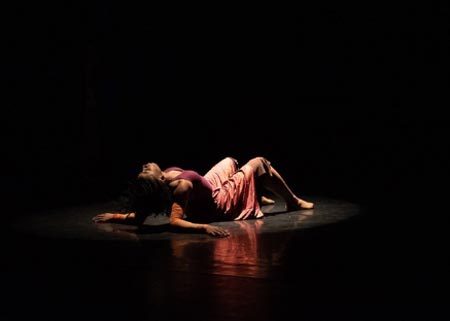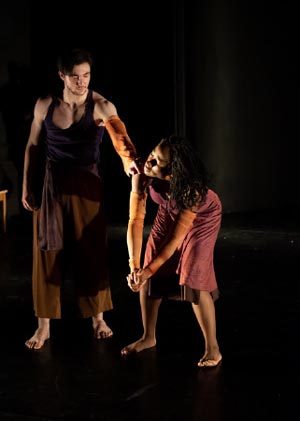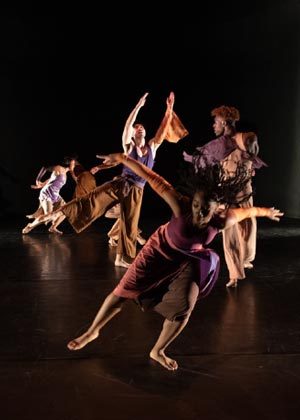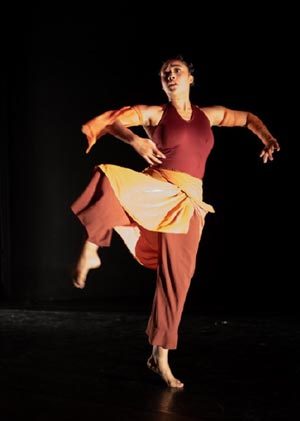 The Journey: still planting…
The Cast
Music: Marco Hague & Quinn Ketteringham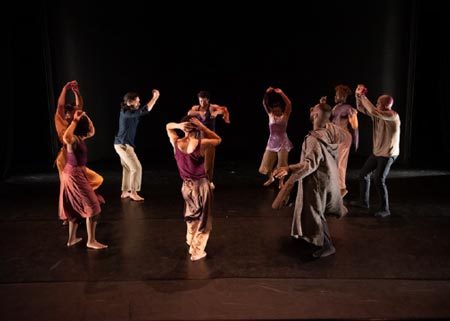 …national treasure…all the dancers performed with passion and power.
– Carolyn Kelemen, Maryland Theater Guide (2023)
Biographies:
Vincent E. Thomas, dancer, choreographer and teacher, received his MFA in Dance from Florida State University and a BME in Music from the University of South Carolina. He has danced with Dance Repertory Theatre (FSU), Randy James Dance Works (NY/NJ), EDGEWORKS Dance Theater (DC), and Liz Lerman Dance Exchange (MD). His choreography has been presented at various national and international venues including DUMBO Festival (NY), Velocity Festival (DC), Modern Moves Festival (DC), Philly Fringe (PA), Edinburgh Fringe Festival (UK-Scotland), Barcelona and Madrid, Spain, Avignon, France, Athens, Greece, Bari, Italy, Copenhagen, Denmark, Shanghai, Taipei, and Singapore. He received rave reviews for his performance of "Come Change" (2012) and "iWitness" (2014) in the Edinburgh Fringe Festival (Scotland).
Theater credits: Movement Coach/Choreographer for Everyman Theater's Brother's Size by Tarell Alvin McCraney in Baltimore, MD (2012), Mosaic Theatre's Unexplored Interior by Jay Sander in Washington, DC (2015), and Everyman Theater's Los Otros by Ellen Fitzhugh in Baltimore, MD (2017), and Associate Choreographer/Movement Coach for Williamstown Theater Festival's Most Happy in Concert in Williamstown, MA (2022) directed by Daniel Fish.
He is the Artistic Director/Choreographer of the national touring What's Going On project. Vincent was awarded the 2011-2012 Towson University Student Government Association Faculty Member of the Year, a 2014-2015 NextLook Artist for the University of Maryland College Park and Joe's Movement Emporium, a 2012-13 American Dance Institute Incubator Artist (MD), 2016 Baker Artist Award finalists, the 2017 Pola Nirenska Award for Outstanding Achievement in Dance (DC), the 2019 University System of Maryland Regents Faculty Award for Excellence in Research, Scholarship & Creative Activity, the 2020 MDEA Living Legacy Award, a 2021 William G. Baker, Jr. Memorial Fund Awardee, and a 2022 Baker Award Finalist.
He is an Urban Bush Women BOLD Facilitator, faculty member for the UBW Summer Institutes, and Professor of Dance at Towson University. His multi-dimensional company VTDance builds on the use of contemporary dance, improvisation, text/ movement, a variety of sound sources, and collaborations with other artists, including dancers, musicians, poets, visual artists, and others [to be discovered]. These ideas coupled with witty, poignant, athletic and gestural movement are the rich palette for VTDance. www.vtdance.org
Jason Armstrong Baker is an original percussive artist who lives the dynamic relationship between mover and music, form and improvisation. He is a music therapist and recognized rhythm expert by Johns Hopkins, Towson University, the VA, and more. He specializes in designing and implementing interactive educational experiences, helping individuals and teams unlock opportunities to challenge and change how they think through collaborative engagement.
Hannah Brill is a costume and lighting designer from Baltimore. She is a graduate of Towson University with a BS in Theatre Design & Production and Metalsmithing & Jewelry. She is the Assistant Costume Shop manager for Towson University's Department of Theatre Arts. Recent work includes costume design for TU Dance Company: Legacy (Towson University), Marie Antoinette and the Magical Negroes (Single Carrot Theatre), The First Thing That Happens (Acme Corporation), lighting design for Rachel (Rapid Lemon Productions), and wardrobe manager for A Christmas Carol, Twelfth Night, Much Ado About Nothing, Henry V (Chesapeake Shakespeare Company.)
Elias Brzezinski (performer) is a native of Baltimore, MD. He began his dance training at age 3, starting in styles such as ballet, tap, and jazz, then later branched out to other styles such as hip-hop and modern dance as well. At age 14, Elias was accepted into the dance magnet program at G.W. Carver Center for the Arts and Technology where he attended all 4 years of high school, training with instructors Stephanie Powell and Maria Royals, focusing on modern and ballet techniques. Elias is currently training in the BFA program at Towson University as a Dance Performance and Choreography Major and has been appointed the rehearsal director for VTDance II.
Armani Colon (performer) is a 19 year old male dancer from Chicago, Illinois. His training began at age 14 at The Chicago High School for the arts where he trained in various forms of dance such as Ballet, Jazz, Modern, Partnering, Contemporary, and Musical Theatre. He has trained in institutions such as Joffrey Ballet, Giordano Dance Chicago, Ballet Chicago, and Chicago Multicultural Dance Center. He graduated in 2021 and is now a Undergrad BFA student at The Peabody Institute of the Johns Hopkins University and a signature cabaret dancer with The Monarquettes at Monarque Baltimore.
Cathy L. Draine (poet) is a writer and seasoned community development professional, committed to positively engaging and supporting vulnerable communities through creative expression and direct action. In her current role she is the Director of Diversity, Equity and Inclusion for the City of Everett. Draine also worked at UHM Properties in Boston where she served as a lead in the Resident Services Department and the company's nonprofit, the Neighborhood Network Center, Inc.
Also, during that time, she became the inaugural Director of Community Engagement for the State Police Association of MA. In all her endeavors, Draine has utilized creative placemaking as an integral strategy for change. Cathy's work in community has been recognized by the National Organization of Black Law Enforcement (NOBLE)with Motorola Solutions, the Boston Bruins, and most recently by the Commonwealth of MA as a Black Excellence on the Hill recipient. Cathy has an undergraduate degree in History from Hollins University. She also holds master's degrees from both Brandeis University (MA, Cultural Production) and Emerson College (MA, Theatre Education – Theatre & Community). The mother of one, is originally from Covington, Tennessee.
Mikhail Gordon (performer) is a junior BFA Dance Performance & Choreography major at Towson University. He previously trained at C&C Dance Company, competing on their competition team for 3 years, winning multiple first overall awards. During his time at C&C, he specifically trained in acrobatics and contortion, eventually finding his love for contemporary, ballet, and modern during his time at Towson University. His goal after graduating is to continue to teach and choreograph for studios on the competition circuit and to open his own dance studio. He wants to be a role model for the younger generation of dancers, while keeping the positive influence of dance alive.
Marco Hague is a guitarist with a focus and passion for improvisation. His favorite music to play is that which is created in the moment. Throughout his time studying and playing the guitar, Marco has performed in a variety of settings including jazz small groups and big bands, pit orchestras, worship bands, and solo/duo performances. Marco is a member of Captain Ahab, an indie rock band from the Baltimore area.
Marco has had the privilege of learning music from incredible teachers including Dan Ryan, John Lee, Dave Ballou, Jason Rigby, Mike Kuhl, and Jack Waugh. Marco's musical influences include Crosby, Stills and Nash, John Coltrane, Bill Frisell, Joni Mitchell, Algernon Cadwallader, Flock of Dimes, Dawes and Wayne Shorter. Marco also teaches guitar lessons in numerous styles, striving to help each student explore their individual goals and interests. He is currently studying jazz guitar performance at Towson University.
Quinn Ketteringham is a bassist and composer based in Baltimore, Maryland. Quinn has been involved with music since his childhood and began studying with private teachers on piano, bass, and guitar as a teenager. As a performer, Quinn has played with many ensembles and groups across Maryland in a variety of musical styles. He is currently studying jazz upright bass performance at Towson University.
Thomas Tyger Moore (performer) He/Him (Brooklyn, NY) is a kinetic storyteller/ facilitator/ acupuncturist and herbalist. Thomas also manifests works with his soul sister and collaborative partner Adrianne Ansley in 'Thomas & Adrianne', where they produce multi-media and multi-dimensional work as well as share their thoughts on their "You're Welcome with Thomas And Adrianne" podcast. Thomas has collaborated with VTDance, Gibney Dance, Johnnie Cruise Mercer/RedProjectNYC, Dance Exchange and Christopher K. Morgan & Artists.
Thomas has been in residence with Dance Exchange (DX) at Jacob's Pillow for their 25th Anniversary of Curriculum in Motion programming, integrating arts and movement into local high school curriculum. He was one of 11 artists chosen for the 2017 International Dance Omi Artist Residency. He also joined DX for the Great Smoky Mountain National State Park and arts integration residency in Tupelo, MS. Thomas has presented his work at Alchemical Studios NYC, Judson Memorial Church NYC, Center for Performance Research, Velocity Dance Festival, Georgetown and Towson University. He has also served on the CPR Spring Movement and Dance Omi Selection Panel.
Thomas collaborates with Gibney as a Lead Community Actionist, leading and reimaginging creative movement classes and workshops for kids and young adults throughout New York about healthy relationships. Thomas graduated with a BFA in Dance Performance and BA in Mass Communications/Journalism from Towson University and currently working towards his Masters/PhD in Traditional Chinese Medicine and Herbalism at Pacific College of Health and Sciences In New York.
Sade Morgan (performer) is an emerging artist from Prince George's County Maryland. She began training in 2015 and is currently entering her last semester at Towson University, graduating with a BFA in Dance Performance and Choreography and an IDIS Minor in Diverse and Inclusive representation for arts education. Sade values the challenges and accomplishments found in learning and building a career surrounding the art of dance. She has a love for art that extends to fitness, science, and acting. Sade has worked with inspiring various artists such as Jawolle Willa Jo Zollar, Jeniffer Archibald, Elana Anderson, and Kevin Iega Jeff who have been impactful towards who she is today.
Heather Mork (Stage Manager and Lighting Designer) is delighted to be celebrating the 20th anniversary of VTDance! Heather earned her B.S. in Theatre, Design and Production from Towson University, and expects to complete her M.A. in Emerging Media in Loyola University Maryland in just a few weeks. Heather has designed and worked for numerous companies in the region such as Deep Vision Dance Company, Morton Street Dance Center, Full Circle Dance Company, Spoleto Festival U.S.A., and The Lost Colony. She is grateful to Vincent for the opportunity and Nick for his support. 143.
Gabriel Thom Pasculli (performer, he/they) is a US/Turtle Island-based performance artist, teacher, and theater director. Gabriel's recent work has focused on decolonial praxis, mythic imagination, personal storytelling, and performance as means of interrogating dominant cultural narratives. For eight years, Gabriel Thom was the artistic director of the ensemble laboratory Walkabout Theater, now called Wender Collective, and they are currently the creative producer at Sandglass Theater in Vermont, a puppet theater committed to sparking wonder and social dialogue. Gabriel Thom is studying with Fides Krucker in her Emotionally Integrated Voice pedagogy, and they recently graduated from Goddard College's MFA in Interdisciplinary Arts program. Gabriel teaches acting, movement and voice at the University of IL in Chicago and the University of Chicago.
Sujan Shrestha, (video montages) Associate Professor in the Simulation and Game Design Program, University of Baltimore. Professor Shrestha's research focuses on teaching and learning through games and digital interactive technology. His research interests encompass digital humanities, with work focusing on the preservation and accessibility of historical and cultural artifacts. With a background in experimental art and new media, he finds solutions in meaningful restoration and preservation of history using storytelling, games and emerging technology. He collaborates with people and institutions worldwide in mathematics, arts, and sciences. He established the University of Baltimore's GameLab, a multi-purpose interdisciplinary laboratory to support students in the area of Science, Technology, Engineering, and Mathematics. He is an active board member and the treasurer of the Bridges Organization, which oversees the annual Bridges conference on mathematical connections in art, music, architecture, education, and culture.
Kendall Willis (performer) was born and raised in Baltimore, Maryland. She started dancing at the early age of six, and soon fell in love with the art form. She attended Baltimore School for the Arts where she studied various ballet and modern techniques. There she performed works by Darrell Grand Moultrie and Stephanie Martinez. Kendall also performed George Balanchine's Serenade at the Meyerhoff with the Baltimore Symphony Orchestra. She is currently in her second year of pursuing a BFA degree in Dance and Choreography at Towson University. Kendall is eager to continue her education in dance and explore all that there is to offer.
Baylee Wong (performer) is an aspiring artist from Carmel, New York. She received training at Pinewood School of Dance, Fred Astaire Dance Studio, Joffrey Jazz and Contemporary Summer Intensive, and AAB Summer Intensive. Baylee learned various styles of dance including ballet, tap, jazz, modern, and ballroom. Baylee currently attends Towson University pursuing a Dance Performance and Choreography BFA on a dance merit scholarship. As a senior, She looks forward to bringing her artistic voice to the stage whether that is through performing or choreographing.
Special Thank You:
I am deeply grateful for the amazing support of donors and supporters of VTDance. Thank you for believing in me and all aspects of this work.
Robert W. Deutsch Foundation
Friends of VTDance– Universal, Tangible, Essential Supporters
Towson University Department of Dance
College of Fine Arts & Communication
Dr. Timothy White & Gala Reception Crew
Downtown Kevin Brown & Nancy SNAC
Katie Simmons- Bart
Kate Tallent & KTD Creative
Eric Levenson & Jeffrey Press Inc.
Heather Mork
Roger Wood
Paul Shapanus
Alpha Class Studios
Caleb Spencer, Photography
Baltimore Theatre Project