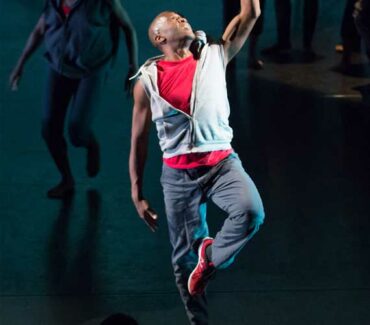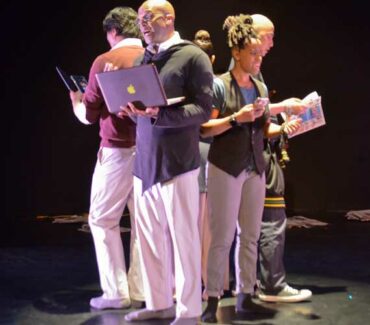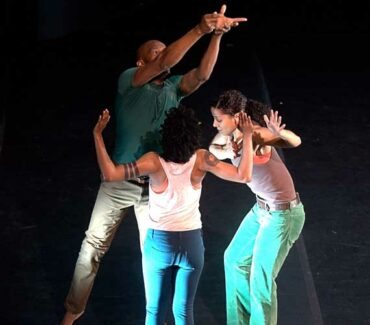 In the Company of… Moving Dialogues
VTDance/Vincent E. Thomas presents an exciting evening of new works and collaborations with a stellar cast of moving artists. In the Company of…Moving Dialogues will surprise you, entice you, and satisfy your artistic thirst. Featured artists include Runqiao Du, Linda-Denise Fisher-Harrell, Love the Poet, Michael Sakamoto, and more.
In the Company of Men…
In the Company of Men…is a series of evenings of dance art embracing themes of masculinity, life, love, social awareness, and human-ness. With a talented cast of all men, Vincent brings to the stage many perspectives on life through the bold and impressive physical works of the male body.
Homo Will Not Inherit
VTDance collaborates with Steve Satta of Iron Crow Theater on the steamy poetry of Mark Doty, a National Book Critics Circle Award winner. This work is a fusion of dance and theatre, exploring the intersection of words and movement, and the expression of poetic images through the multiple media of word, voice and body. The body is explored as an ever-shifting landscape of the sacred and the profane. Repetition and transformation of words and phrases create shifting wordscapes and soundscapes that uncover harmony within seeming discord. The sensuality of bodies, words, physical space and the realm of the imagination are at the heart of Homo Will Not Inherit.
One in Five
It is worth noting that Thomas danced in all six works on the program, proving himself a reliable, versatile duet partner and a solid soloist.

– Sarah Halzack, Washington Post (2007)
"One in Five," celebrates five years of VTDance through the art of collaboration. Vincent is the constant figure in the five duets, and the creative approach to each is unique and diverse. The duets are linked by poetic musical interludes using snippets of text from each duet. Featured collaborators include: Christal Brown (NY), clyde forth (NY), Diana Tokaji (DC/MD), and saxophonist Eric Trudel (MD).
Mozart Project: On lines, between spaces
Uriah J. Moore
Samantha Harvey
Caitlin Moler
Elizabeth Terschuur
Dannell Wells
The Instrumental Project
…Thomas's partnerships with musicians were thoughtful and well executed. Thomas's great strength as a choreographer is his ability to build complex emotional relationships between characters.

– Sarah Halzack, Washington Post (2007)
(2002- present)
For many years, I have been teaching movement/dance to wind players, percussionists and band directors. This is a natural endeavor for me, having taught music in public schools and having been involved with marching bands since high school. Like Emile Jaques-Dalcroze, I also see music as movement and movement as music. For me, one does not exist without the other. So my journey continued… exploring the existence (physical and aural) of the live musician, occupying the same space and overlapping kinesphere in performance.
In May 2005, VTDance partnered with the Ahn Trio for a collaborative new work in the Instrumental Project. The Ahn Trio, Angella (violin), Lucia (piano), and Maria (cello) are three sisters originally from Korea. They played Astor Piazzolla's "Primavera Portena", the 'Spring' movement from Las cuatro estaciones portenas (1969). They describe the music as street music, seductive, violent and sexy, tension, and passionate. Joining Vincent as a trio of dancers are Mya Hardy and Tony Byrd. This piece was commissioned and supported by Scott McCormick and the 2005 Bands of America Summer Symposium in Bloomington-Normal, Illinois.
Ahn Trio- www.ahntrio.com
Bands of America- www.bands.org